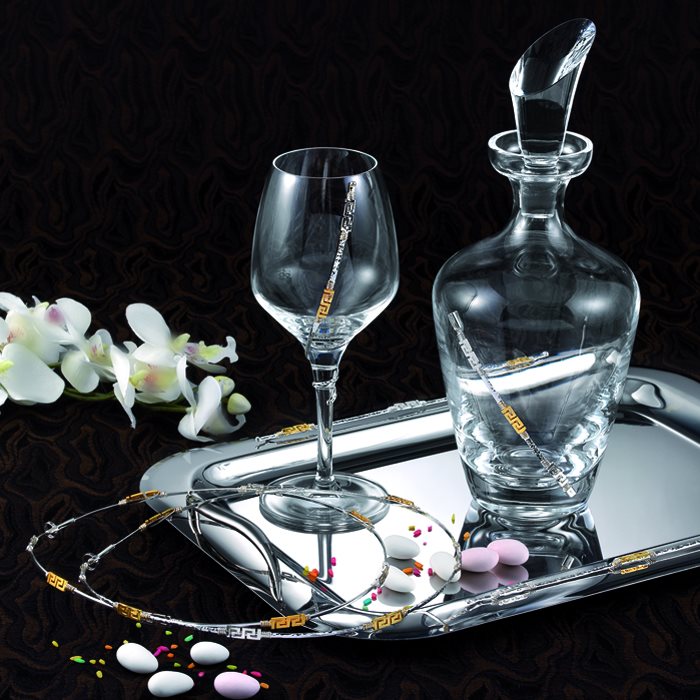 Whether you are wanting a tray, glasses, decanter or a wedding set (set gamou), Vada Creations have a beautiful selection for you to choose from.
Our trays come in rectangular, round or oval in shape and come in stainless steel or nickel plated.
We also have trays with gold handles to suit those who have gold stefana.
What are the wedding trays used for?
In an Orthodox ceremony, the stefana or wedding crowns are placed on the tray along with the communion glass, decanter or carafe (optional). The tray is also laden with rice, sugared almonds and rose petals. This symbolises purity,fertility and happinesss.
Our crystal glasses come in traditional and modern styles and you can choose whether you want a wine glass or champagne flute. The most common are the wine glasses.
Our exquisite wedding sets are handcrafted and made in Greece. The wedding sets or set gamou as they are known in Greece, comprise of a set of stefana, stainless steel tray, two wine glasses or two champagne flutes and decanter/carafe. The tray, glasses and decanter all have the same decoration to match the stefana.
Our wedding sets are set to impress and will certainly make a statement at your ceremony and are beautiful pieces to use and keep for many years to come.