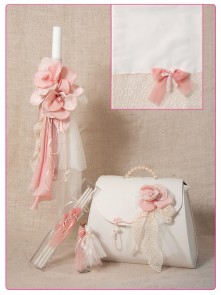 Elegance with a touch of whimsical!
Are you looking for inspiration, a theme that will leave your guests in awe?
From the baptismal candle (lambada), christening bag or box, towel sets (Ladopana), oil bottle and soap, hand made witness pins,  and stunning bombonieres (favors) to match.
Vintage inspired sets, shabby chic, the elegance of flowers, lace and pearls, vintage birds and bird cages, tea party, ballerinas, princess and so much more!
We have all the latest trends and styles from Europe to make your little girls christening an unforgetable one!
We can mix and match sets, personalise them and if you would like a religious theme, please do not hesitate to contact us.
An Orthodox Christening Set includes:
*  Christening Candle (Lambada)
*  Christening Bag or Box
*  Ladopana Set (Towel Set)
*  Oil Bottle & Soap
(Optional – Font Candles can also be ordered)
Please also note that items can be purchased individually or as an entire set.